POCSAG compliant OEM Pager Modules
---
• Switching / Data Output via RS-232
We offer a range of pager modules for aplications that require remote switching or the reception of messages, telemetry data, control strings or other types of data, numeric or alphanumeric.
• Ultra Low Power Consumption
Our modules are ideal for applications that demand ultra low power consumption. The PDR12 typically draws 320 µA average in operational receive mode. Supply voltage is 3V3 to 14V.
• Broadcasting and group calling
Due to the POCSAG paging protocol it is possible to send a message to an infinite number of pagers simultaneously (broadcasting). A pager module can be configured to receive messages on up to 32 different addresses (subscriber telephone numbers) with one being a unique individual address and the others being part of groups and/or sub groups.
---
PDR12 Pager Module
The PDR12 is a high sensitivity OEM Decoder Module that can receive, decode and output paging messages via the built-in RS-232 serial port interface for further processing by the user equipment. Messages can contain numbers, text and special characters.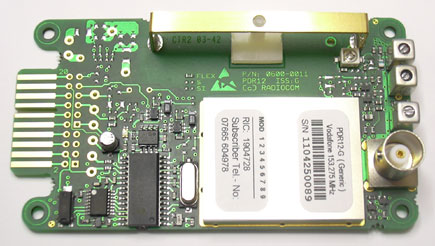 Picture: PDR12 POCSAG Data Receiver Module
PDR12 key features:
Fully compliant with Radiopaging protocol RPC No.1 ( POCSAG )
Decodes baud rates of 512, 1200 and 2400 baud.

Paging messages are output via the built-in bidirectional serial port (user programmable baud rates: 300, 600, 1200, 2400, 4800, 9600, 19200 Baud ).

Up to 4 switching outputs
Uses the serial port to program RIC, subscriber telephone number, baud rates, options, etc.
Standard version with on-board RS-232 level converter
Decodes paging messages of up to 240 characters length on Vodafone UK and 220 characters on O2 Paging.
Messages can be numeric or alpha-numeric (text, numbers and special characters).
Latest message can be stored in nonvolatile memory allowing messages to be read back at any time - even after interrupted power supply.
Built-in RSSI (Receive Signal Strength Indicator) for installation integrity.
8 programmable RIC with 4 function codes each totalling 32 separate addresses.
Available for VHF Band ( 138 MHz to 174 MHz ).
Ultra low power consumption: typically 320 uA operating current.
Supply voltage 3V3 to 14V DC
Standard version has integral antenna AND BNC socket for an external antenna
Custom hardware and software versions possible. Please ask.
For more information and a list of frequently asked questions go to the FAQ.
To download the latest data sheet go to the download page.
---
Back to:
[Home] [News] [Products] [Services] [Support] [Download] [Contact] [Sales] [Links]
Copyright © 1999-2014 Radiocom Electronics Ltd. All Rights Reserved.